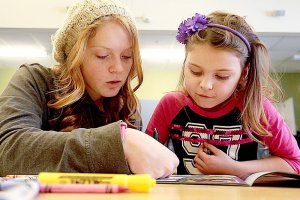 Teen Mentoring is similar to In-School Mentoring, but it is available to teen volunteers. High school Teens are matched with a student in a nearby elementary student. The program provides a positive mentor to elementary students, and high school students gain leadership skills and work experience.
Volunteer Requirements
15 years of age or older
1 hour a week during school hours (same hour, same day every week)
Commitment to full school year (September to June)
Have been living in the community for 6 months
Have three reference who have known you for at least 2 years
Have good school attendance
Have transportation to the elementary school
Complete a Police Record Check
For more information, give us a call at 250.756.2447.