Join our Van Advertising Sponsorship Program
We have an exciting opportunity for Corporate partners in our community! In 2017 we were very fortunate to have a van donated to us thanks to the support of the Roger's Foundation. This van helped cut the costs of clothing pickups throughout the Central Vancouver Island Region for our Recycled Clothing Program.
The Opportunity
We are offering exposure for your brand by having your corporate logo on our van.  The van travels from Nanaimo to the North Island twice per week. During the rest of the week the van will be driving throughout Nanaimo doing pickups and will be parked in front of our office on Northfield Road which provides excellent visibility on a major thoroughfare.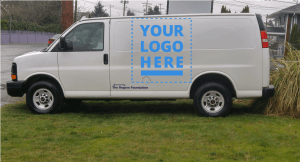 Extra Bonuses 
In addition to exposure on the van all participants in the Van Advertising Sponsorship program will get recognition on our Website and our very active Social Media Channels. In addition to that all sponsors will also be recognized at our Annual General Meeting as well as our quarterly newsletter.
The Investment
We are offering van advertising sponsorship packages for as little as $60.00 per month! **. We will structure something based on your company's budget and needs.
** a 2 year commitment is required.
To learn more about this opportunity, contact Jennifer at jennifer@bigscvi.ca or give her a call at 250-756.2447