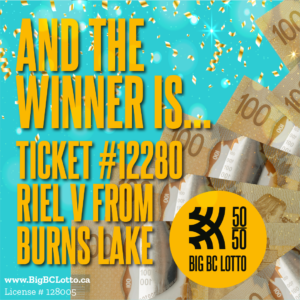 Here are the results of the BigBC Lotto, the draw happened on May 14th.
Total tickets sold: 13,266
Total Jackpot: $77,300
The Winner won $38,650
The Big Brothers Big Sisters Agencies raised a total of: $38,650
And the Winner is……. Riel V. Ticket number #12280 from Burns Lake, BC
Congratulations to Riel and Thank you for everyone who participated! Thank you for making a difference in the lives of deserving children!