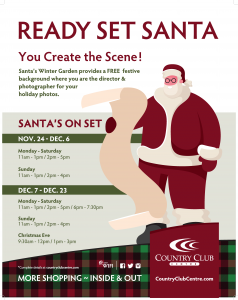 Ready Set Santa
A BIG Thank you to Country Club Centre for once again hosting "Ready Set Santa" and selecting us as a charity of choice! Drop by Country Club Centre, between now and December 24th and have your photo taken with Santa and part of all donations/proceeds go toward our programs for deserving children in our community! Take your own photos on your device for FREE or Santa's elves can snap all your special moments on our camera and load them on to a keep sake USB for a suggested $10 charitable donation. ($3 from every donation covers the cost of the USB stick).

Santa's On Set
Nov. 24 – Dec. 6
Monday – Saturday 11am – 1pm | 2pm – 5pm
Sunday 11am – 1pm | 2pm – 4pm
Dec. 7 – Dec. 23 
Monday – Saturday 11am – 1pm | 2pm – 5pm | 6pm – 7:30pm
Sunday 11am – 1pm | 2pm – 4pm
Dec. 24 (Christmas Eve) 
9:30am – 12pm | 1pm – 3pm
Photoshoot Guidelines: 
Start: Santa's Assistant will lead you on to the set to meet Santa.
Shoot: Tour Santa's Winter Garden & shoot photos photos with Santa.
Share: Tag Country Club Centre in your candid photos on Instagram or Facebook for a chance to WIN a $250.00 Country Club gift card.
Forgot your Camera? 
No problem, we have a DSLR camera on-site for guests in need.  Santa's assistant will take multiple photos for you and upload them all onto a keep sake USB stick for a donation to charity.
Suggested $10.00 donation
($3 from every donation cover the cost of the USB stick)